DSoundTool
Using DSoundTool, you can create your own multi-sampled sounds and download them into the 2box DrumIt Five drumming system.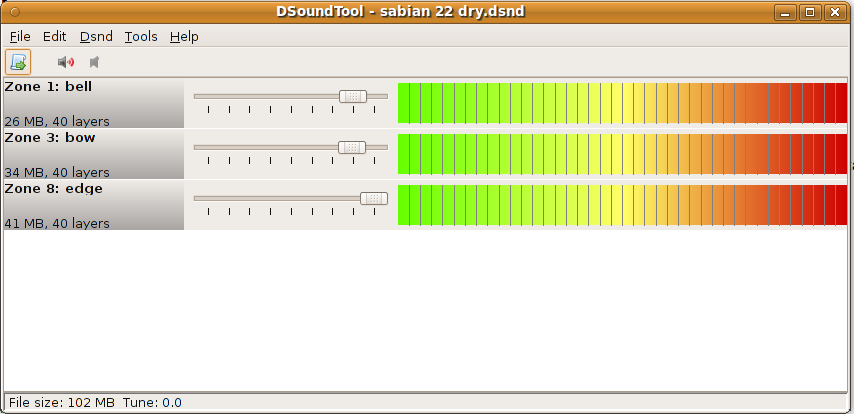 Features
Create .dsnd files from your own samples that can be downloaded to your DrumIt Five.
Sample VSTi instruments and download them to your DrumIt Five
Adjust volumes of existing sounds in the Drumit Five to your liking.
View the settings of all drum kits drumit.dkit
News
Version 1.10 released
2011-04-16
Highlights:
Added feature to play short demos of loaded sounds to get a better feel for the sound.
Added possibility to eliminate leading silence in drum samples.
By clicking on the name of the zone of a loaded sound, detailed information about the samples of that zone is shown.
Various bug fixes, e.g. when splitting a sound, the velocity map was not correctly generated.
Nicer user interface.
New pricing!!
2010-10-26
From now on, you determine the price of DSoundTool! As always before, DSoundTool is "goodware"; you obtain a license by donating an amount of your choice to "Médecins Sans Frontières" (MSF) or World Wildlife Fund. See below for more info.
System Requirements
DSoundTool has been tested on Windows 7 and Windows XP. However, it should work on most operating systems (Windows, Linux, MAC) as long as Java 1.6 has been installed. At least 256 MB RAM is required.
Buying DSoundTool
DSoundTool is not free software. You may use the software for evaluation purposes without charge for a period of 30 days. If you use this software after the 30 day evaluation period, you must buy the license.
You buy the right to use the license by donating an amount of your own choice to either:
When you have donated, please send a mail to info @ shortestpath.se. Please write to which organization you donated.
Acknowledgements
A few icons have been used from the Silk Icon collection on http://www.famfamfam.com; thanks to Mark James!
Disclaimer
Shortest Path AB (and hence DSoundTool) is not in any way associated with, or endorsed by 2box AB.